The growing concerns towards the increasing environmental challenges and the depleting natural resources has led to an increased focus on making all possible efforts towards sustainability. Sustainability has become more of a movement now that has influenced one and all across diverse fields. The designing world has been no exception and we see designers today making a conscious and dedicated effort to come up with designs that are created by using new and more sustainable means.
Some popular materials that have been used by the mastermind designers to create designs that satisfy the soul while still giving them uncompromised opportunity to show their amplified skills in the designing field include bamboo, wicker, seagrass, and Mycelium.
Bamboo
Bamboo is 100 percent biodegradable and also a renewable material that can be seen being made a part of some amazing designs. Bamboo grows quickly and is therefore easy to procure and produce. It has been used in creating really cool ceiling ideas, furniture as well as furnishings. The jaw-dropping design created by Dutch designers Tejo Remy and Rene Veenhuizen in the form of a 'bamboo chair' shows how creatively and uniquely this material is being used to come up with distinct design concepts.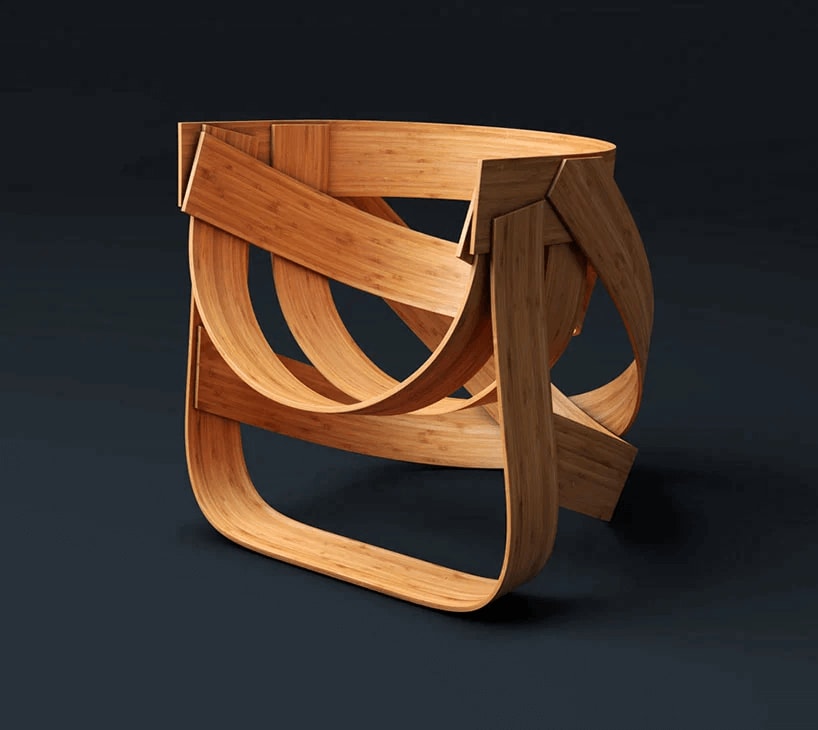 Image Courtesy: Design Boom Magazine
Rattan
A very interesting material that can be seen used in some cool furniture designs is rattan. Rattan furniture has been more popular as outdoor furniture as it's sturdy, weather-resistant, and low maintenance. The latest rendezvous of this material with wood has helped create some amazing designs and this adds a fresh look to beds, chairs, and partitions. Designers have expanded the scope of this material to indoor furniture as they come up with some chic and elegant masterpieces. The Popularity of the Bohemian interior style is also a key reason that the natural and easy look that Rattan weaves help to create is becoming a roaring trend in itself.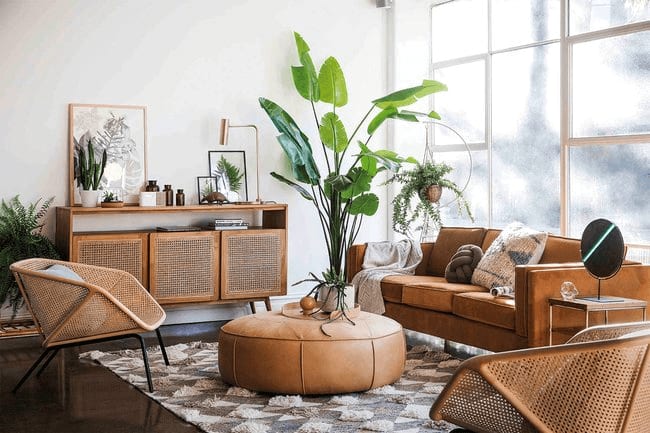 Image Courtesy : https://Sitchu.com.au
Sea Grass
Gabby home shows us some gorgeous ways in which seagrass can become an effortless part of our home décor. They have beautifully incorporated this sustainable and environment- friendly material in creating side tables, large mirrors as well as colored tabletops. The small round table called Devin showcases a color variation in the use of seagrass and opens our minds to the endless ways this material can be experimented with.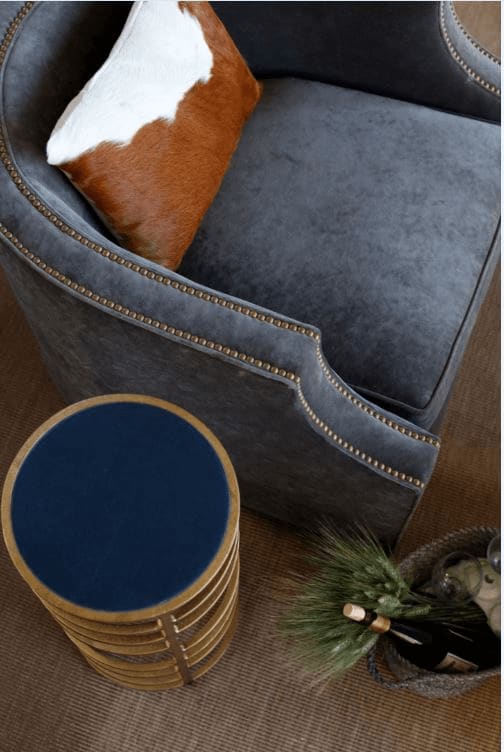 Image Courtesy : https://gabbyhome.com
Mycelium
Mycelium is made from fungi and is an organic and fibrous material that has good strength and resistance. These properties make it a good choice for composite boards now being used by interior designers in place of MDF. Mycelium is being used as a packing material mainly as a substitute to Styrofoam packaging though its future potential to create further packaging variants seems quite bright. Mycelium is easy to mould and produce, being light weight it has potential to be used extensively for home décor and accessories, although the same has not been explored fully yet.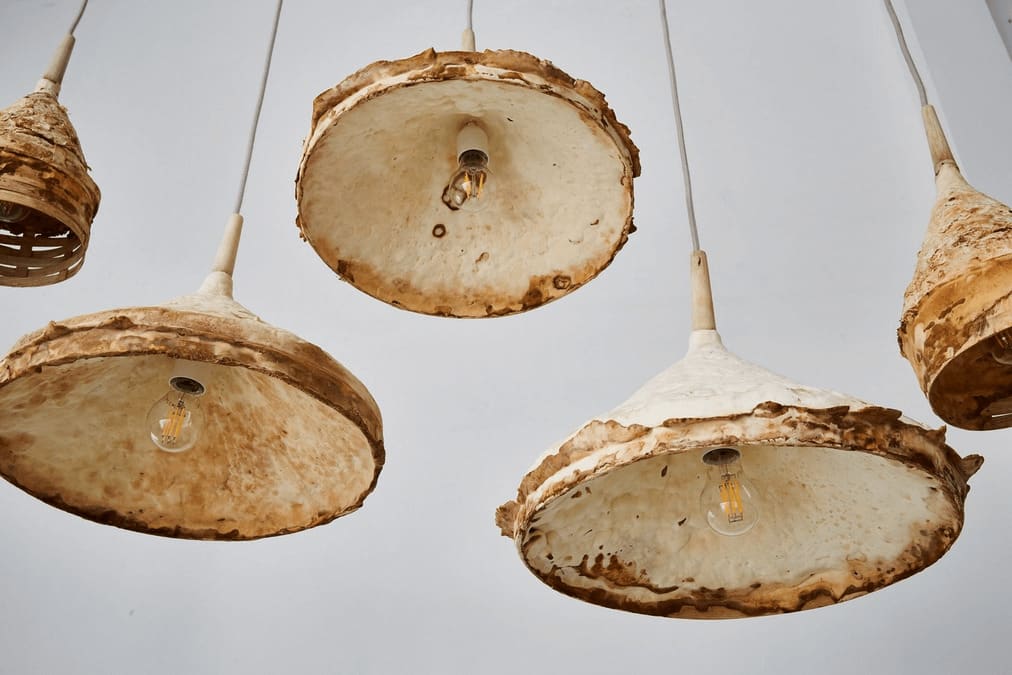 Image Courtesy : https://criticalconcrete.com
Reclaimed Wood
Reclaimed wood is basically old used wood refinished to make new wood floors. This material is perfect to use while creating designs for staircases, counters, rocking chairs, coffee tables, or mantles. This type of wood helps create a beautiful rustic effect and is also easy to use to create innovative designs. It is a good option for flooring and so can be used well if the interior style adopted demands adding rustic elements in the design concept.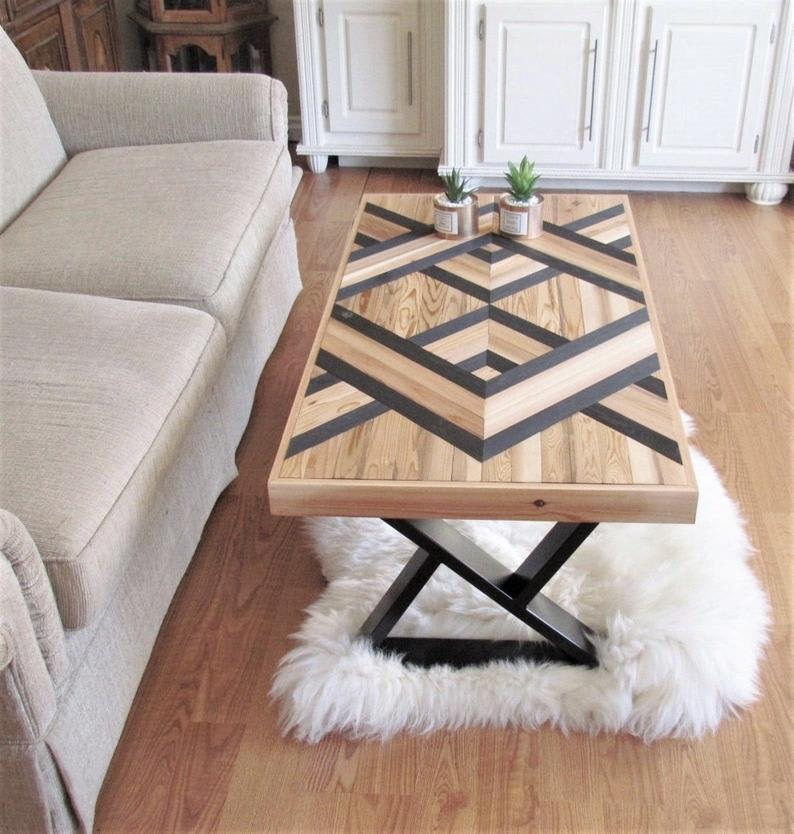 Image Courtesy : Etsy.com
Cork
Cork as a material is high in terms of sustainability. It can be easily recycled and for its original form, it has to be harvested from the tree bark without uprooting the tree. You can see beautiful mirror frames made of cork. Besides this, it makes for a good flooring as well as a countertop option, as it is water impermeable. Small accessories like pinboards and quirky wall art made from wine corks also make for amazing pieces that can add a strong style statement to your home décor.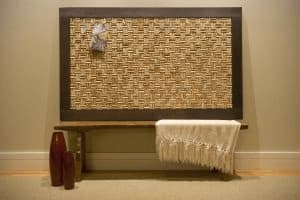 Image courtesy : https://guidepatterns.com
Recycled Materials
Making use of recycled and reusable material is a great step towards sustainability as it is a concept that supports better use of resources without recklessly discarding them. We see brands like The Rug Republic coming up with gorgeous and statement-making rug designs created by reusing discarded denim and plastic from pet bottles. The list of recycled materials being used in the design world is extensive and includes paper, plastic, glass, metal, stone and much more.
Look at this innovative use of the paper composite in the side tables designed by Charlotte Jonckheer.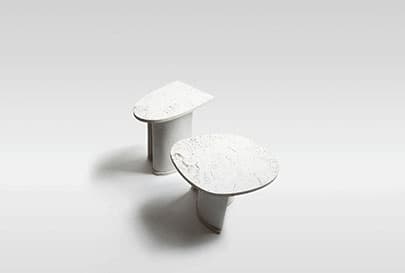 Image courtesy : charlottejonckheer.com
Image Courtesy : frameweb.com
The stunning creation by Carsten in der Elst shown in the picture above is a brilliant showcase of how reclaimed stone can be used in the most trendy and flattering manner. Such makings prove that designing and creativity can be best friends to sustainability and there is endless scope to adopt varied materials in interiors without compromising on functionality.