LOCATION – KAMALA MILL
AREA – 1200 SQFT
CUISINE- A PUNJABI RESTAURANT
TEXT COURTESY – SANIYA KANTAWALA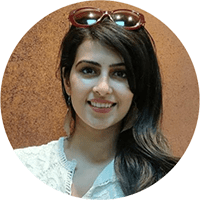 Saniya Kantawala
Oye kake is a traditional Punjabi restaurant. The design of the restaurant has been created keeping three aspects in mind.

1.Oye kake as a brand has six colours that the client wanted to spread out in the space.
2.We wanted very subtle elements of the cuisines culture show cased within the space (Only 1 -2)
3.An open Tandoor + Lassi + Kulfi bar was mentioned in the brief of the project.
Studying the first point in detail, gave us the idea to use "choora"(bangles, a Punjabi woman's ornament)
as the art throughout the space, with only adding in the colours of the brand. We then came up with the
concept of the installation and got on board, Nitanth Hirlekar from mutation lab to build the entire
installation for us with lighting in it. This focus as you enter Oye Kake is on its ceiling with the 1000 ft.
light installation that resides with 36,000 bangles locked into the design. The installation is made out
of the 6 brand colours and white (which glows in the night), as there is indirect lighting given inside it.
For this installation to stand out, we used a nude shade for all the walls and its ceiling including the fabrication of the entire installation keeping in mind that the light installation is the only pop in the space.
Read the full article in our first ever interactive E-Magazine..