When we start to decorate an office space, we will need office furniture. Designing furniture for the office is more than just workplace efficiency and performance but also modern, stylish and aesthetics. The type of furniture specialized are evolving by the day and provides you with the most comfort with enhanced aesthetics.
Redefining of a workplace with innovation help ensure better environment. Through experimenting and innovation, industrial designers TRANS|ALPIN have created a new composite material made of pre-formed wooden elements with metal layers so that electrical elements, i.e., lamps, can be plugged directly into the wood without any cables.
Wood.e is essentially electrified wood, is a built-up composite comprised by plywood pressed with two integrated conducting layers which allow adding electrical conduct. 12V power is fed to the metal layers via one connector, permits one to easily plug in different applications (plug and play). The elements like lamps, spotlights, fans etc. can be connected via another. NO cable needed.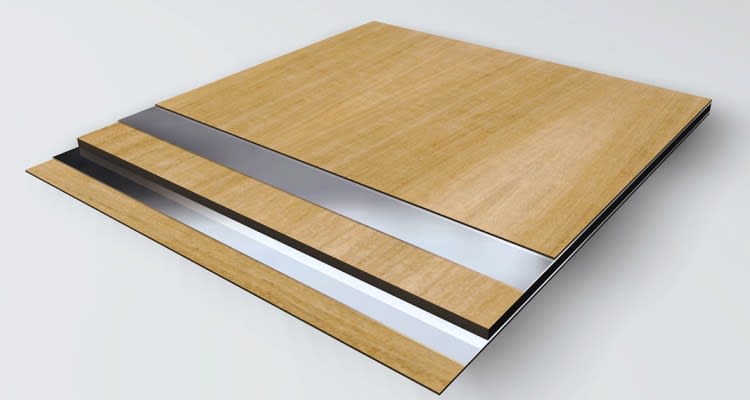 Image Credit: http://transmaterial.net/
It is an Electrified preformed wood. These layers allow for unprecedented possibilities for sound, light, and motion to be combined seamlessly with wood furniture.

Image Credit: http://weburbanist.com
Furniture and stand alone products like chairs, tables, lamps and shelves create helpful associations that are not possible with ordinary wood or metal, and previously out-of-the-way objects can now combine the functions of furniture, lighting and space definition.

Image Credit: http://weburbanist.com
These developing technologies are which have very little to do with advancing electronic functionality and everything about making it easier for furniture designers to include technology into their furniture. May be in future we can see them go beyond including a single circuit–currently just power–in the laminate and to include data lines that terminate in standard connectors (maybe elegant small ones).
The design possibilities are immense to say the most. One of many wood.e design concepts, shown here is a Trans|aplin designed integrated seat and lamp.

Image Credit: http://mocoloco.com
In Salone del Mobile in Milan(2006),  Designed and presented by Bjorn Blisse, Folker Konigbauer, and Reinhard Zetsche from Transalpin, the project "Living in a Box" is a furniture system made out of Wood.e, and demonstrates the potential of this material.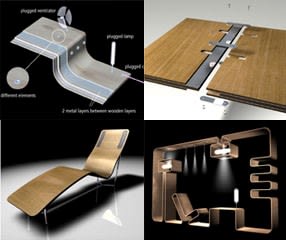 Image Credit: http://archinet.com
Integrated in to a singular installation with the profile of a box are the normally separate pieces, chairs, tables, lamps and shelves etc. While this concept may exceed the applications and proposal of how you or I would use Wood.e, it's an interesting study in form and function. What enthuse me the more is that there are no ugly wires disturbing the nice clean lines.
Image Credit: http://weburbanist.com
Desks placed next to lounge seats can be made with a no panorama of scores of tangled wires. Floors made of wood.e can be easily cleaned, also minimizing the accidents. Minimal lines make for an elegant interior adding softness to the office. Cables are necessary, but when concealed in an organized manner allows for maximum versatility, function and aesthetic appeal. Wires cannot adjust with workspace and are openly visible in sightlines can totally be eliminated. With a plug in connectivity and accessibility, convenient work surface outlets can be designed.
With Wood.e n number of possibilities opens up for a workplace design. Amazed by the product, we must look forward for more innovations in the future.