Typology : Healthcare
Name of Project : Symbiosis University Hospital and Research Centre
Name of Client : Symbiosis Society
Principal Architect : Mr. Rahul Kadri (IMK Architects)
Site Area : 41800.00 Sq.Mtrs
Photographer : Mr. Rajesh Vora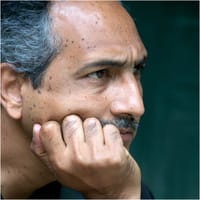 Rahul Kadri
Fighting the Pandemic: Designing for Healing and Wellbeing
Mumbai-based architecture and urban design firm IMK Architects was honoured as a Supreme Winner at the prestigious 2021 Surface Design Awards, London, for the Symbiosis University Hospital and Research Centre (SUHRC), on February 11in a virtually held ceremony.
Winners were chosen from a pool of over 100 projects from across the world in 12 different categories. The award jury, co-chaired by Nicola Osborn from London-based multidisciplinary design studio, Basha-Franklin and Steve Webb of Webb Yates Engineers, London, commended IMK Architects for the use of Compressed Stabilised Earth Bricks (CSEB) at SUHRC.
Driven by the aim to design a hospital that could last around 50-100 years they designed a façade with natural materials that would save on energy.
SUHRC represents a progressive and new face for healthcare infrastructure in India and is currently being used by the government of Maharashtra as a Covid-19 quarantine facility and hospital. SUHRC is a 41,800-square-metre, 216-bed, multi-specialty hospital occupying the lower slopes of a hill within Symbiosis International University's 260-acre estate in Lavale, providing state-of-the-art healthcare facilities and a research centre to enhance skill development.
To promote recovery and rejuvenation for patients SUHRC draws from the ideas of biophilia (an innate human tendency to seek connections with nature and other forms of life)
Functionally, the building comprises four sections; One being the skill centre, while the other three sections belonging to the hospital. Every section has been functionally planned and have been conceptualized for – driven design and provides a distinct formal response. The three blocks of the hospital, namely, the procedure block, the general hospital block, and the multi-specialty block, all have been planned with keeping the ease of functionality and specially taking care of avoiding criss-cross movement.
The entrance for the Skill Centre takes inspiration from the stainless steel surgical instruments that are used in the hospitals. A silver steel bird, with wide open wings, welcomes the visitor into the building. Steel pipes support a futuristic roof under the sun, and are symbolic of an architectural contemporary response.
Two large courtyards are landscaped with flowering shrubs and trees which bring in ample daylight and views of the outdoors into the indoors, while creating safe zones to reduce cross infection. Critical areas such as ICUs are bestowed with soft and soothing hues to reduce anxiety. The project is an exemplar of passive design and sustainability.
The Highlight being the Naturally-compressed, sundried earthen bricks which were produced on site and were used to create double-skinned, boxed forms.The facade reflects the light from the sun in different ways through through these twisted brick-boxed forms, to reduce internal heat gain and create a gleaming effect of light