It's that time of the year again! DIWALI is fast approaching and this festive season is all about jazzing up your home to create a special festive ambience and making it memorable for your loved ones !
Diwali decorating doesn't have to be time consuming or expensive. Mixing everyday elements with your shiny ones in interesting ways, can create beautiful corners at home with very little effort.
Here are some easy ,simple,& quick ways to help you create that perfect festive ambience !
1.INDULGE IN MARIGOLDS
No other flower spells Diwali festivities like marigolds and the best part is that they are available in plenty during the festive season. Use them in different avatars: as whole flowers, or as petals to form a bed, or string them up for a stunning toran. Place the flowers in a glass containers for an unconventional arrangement. How about having marigolds casually sprinkled over the center table? Throw in some gold/brass figurines, warm lighting and you have a conversation starter right here.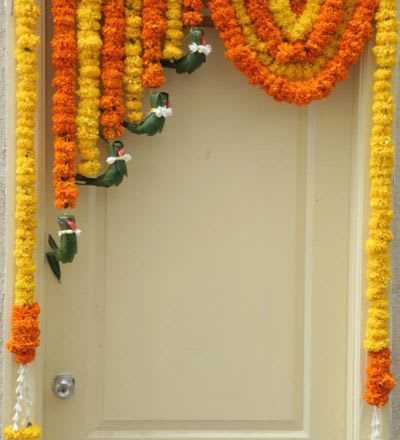 Source : decorbykrishna.com
Source : decorbykrishna.com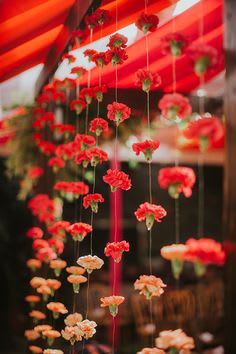 Source : strictlyweddings.com
2.BRIGHTEN UP YOUR FURNISHINGS
Replace the simple furnishings in your living room (and bedroom) with those in festive colours like orange, pink, yellow, red, green and blue. Just bring out those brightly-coloured cushion covers, runners, throws and sheets, especially those in materials like raw silk and velvet.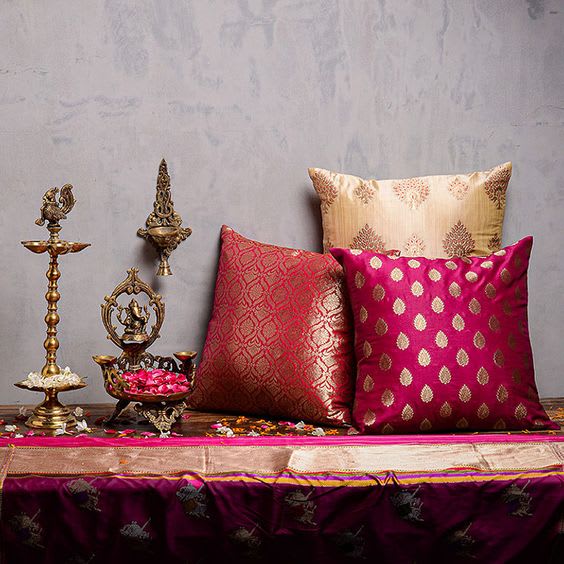 Sourcee : jaypore.com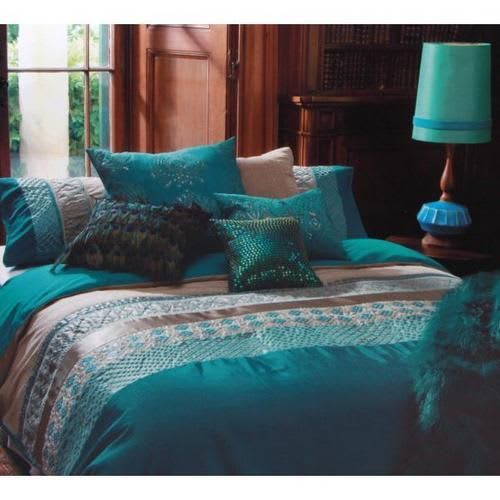 Source : funfoodcafe.com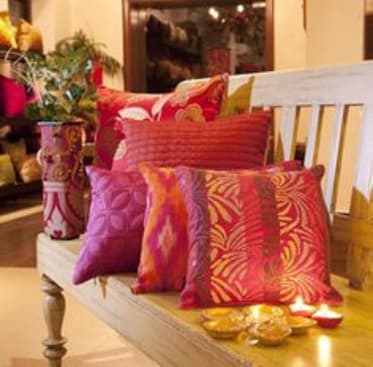 Source : vouge.in
3.A SOUTH INDIAN DIWALI VIGNETTE
One of the best parts about creating a festive vignette right at the entrance of your home is that it leaves a nice impression on the minds of your guests
Bring in the figurines and the brass urlis and arrange them tastefully with diyas or string lights, add flowers and a Kerala or a Kanchipuram silk saree to add shimmer and shine to this diwali set up.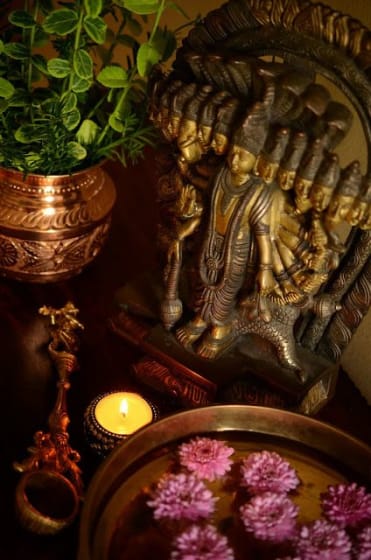 Source : aalayaminspiration.blogspot.com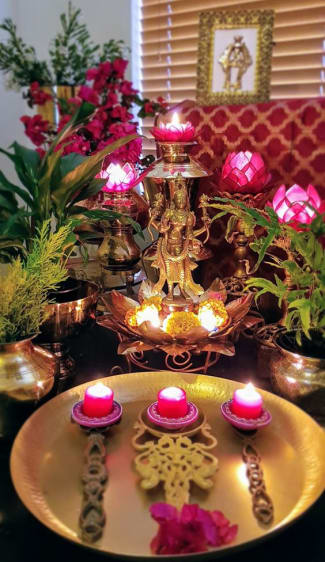 Source : i.pinimg.com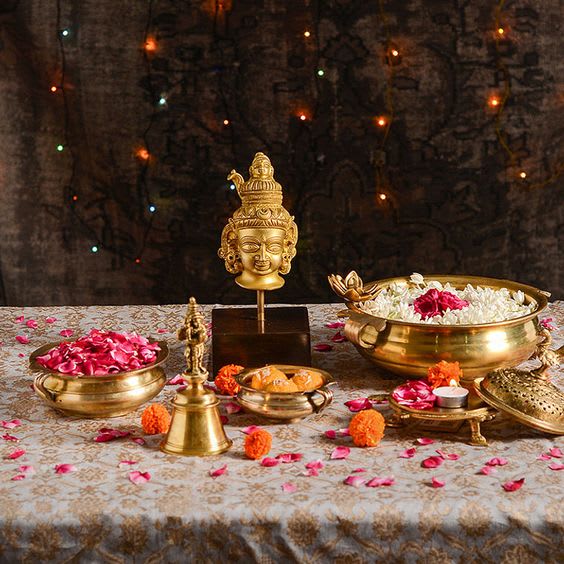 Source : jaypore.com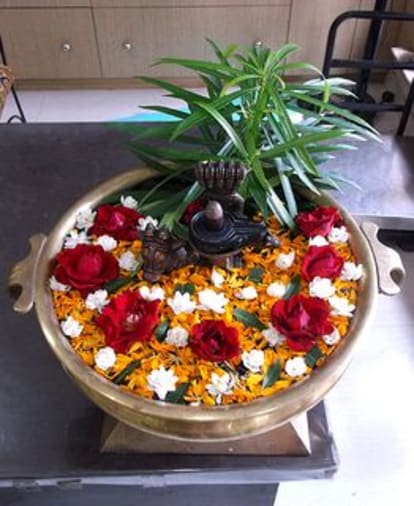 Source : flickr.com
4.A CLASSIC MEDITERRANEAN CENTER TABLE DÉCOR
Match your terracotta diyas with colourful lamps for a novel look.With sparkling votives in jeweled tones as these, you won't need anything else. You could enhance it with silver elements, flowers and shimmering fabric as the backdrop.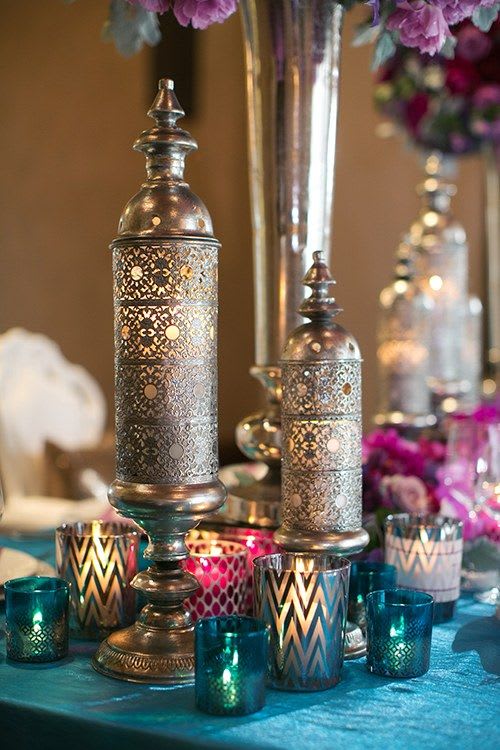 Source : brides.com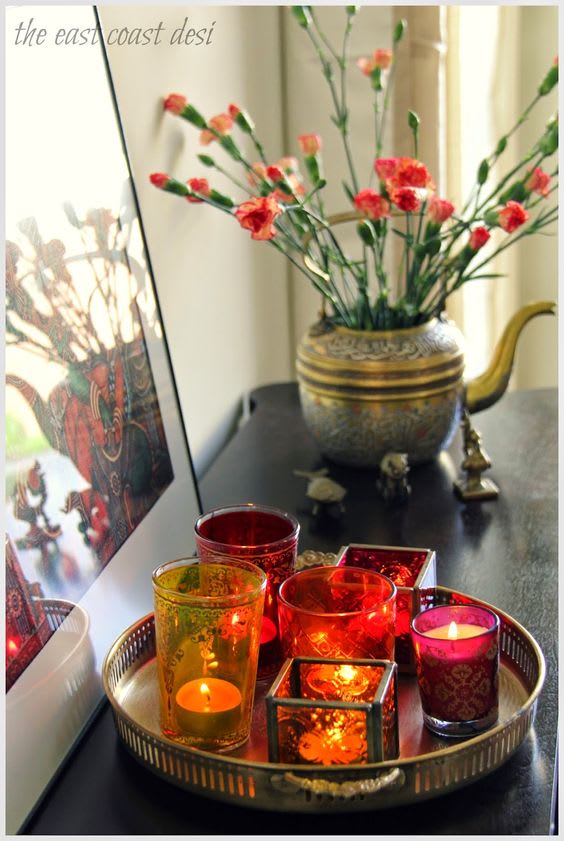 Source : theeastcoastdesi.blogspot.com
5.BRASS, SILVERS & EVERY OTHER METALWARE
Use your favourite metals to lavishly infuse drama in your Diwali vignettes.Something as simple as putting fresh flowers in old metallic vessels like brass kettles, vases, copper bowls and bronze plates, can amplify the festive beauty of your home instantly. This time bring out those silver and brasswares and pair them up with your favourite silks for a centerpiece that glitters, but is not gold.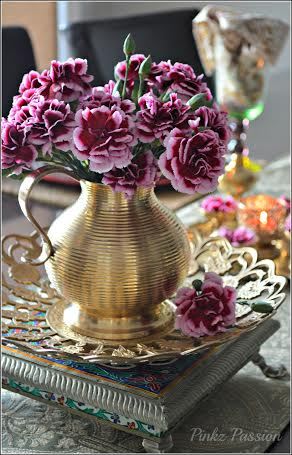 Source : aalayaminspiration.blogspot.com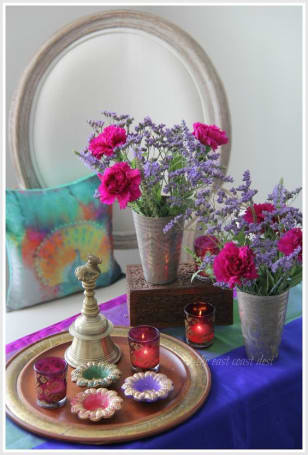 Source : theeastcoastdesi.blogspot.com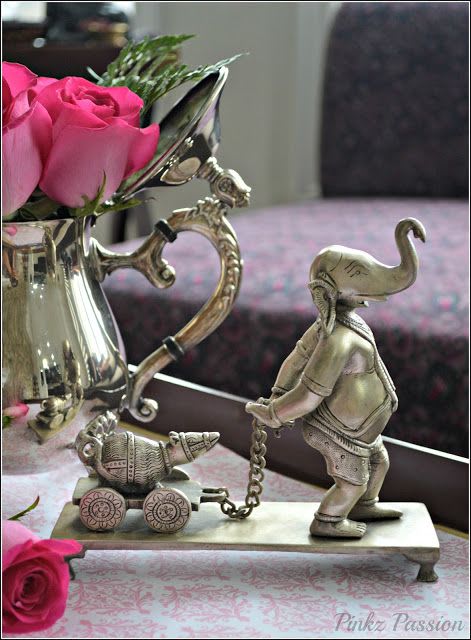 Source : pinkzpassion.blogspot.ca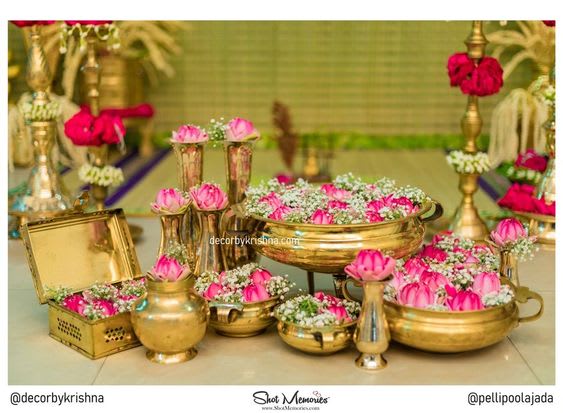 Source : decorbykrishna.com
6.DIYA DECOR
Local markets would be beaming with diyas of all shapes and sizes during this season. and what can be more beautiful and attractive than making a beauteous design by using lighted diyas or candles. Perk up the diya spread for a quick and easy diya Rangoli.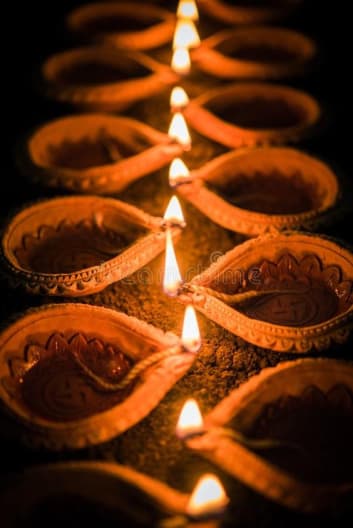 Source : dreamstime.com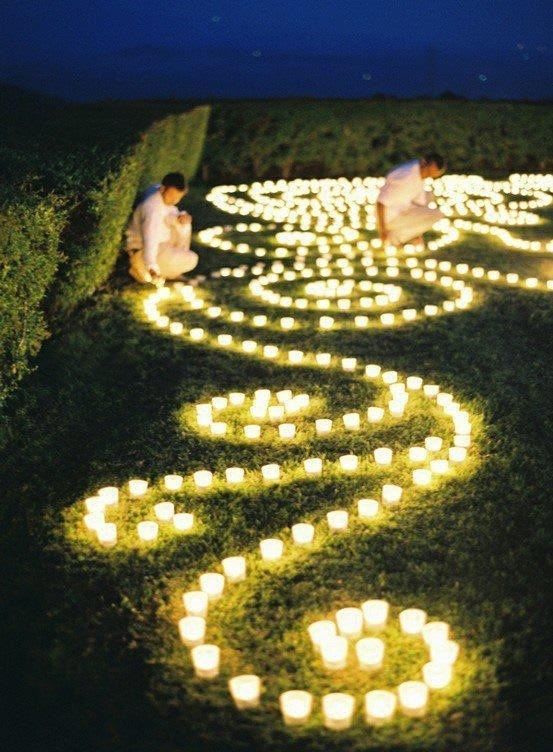 Source : storymixmedia.com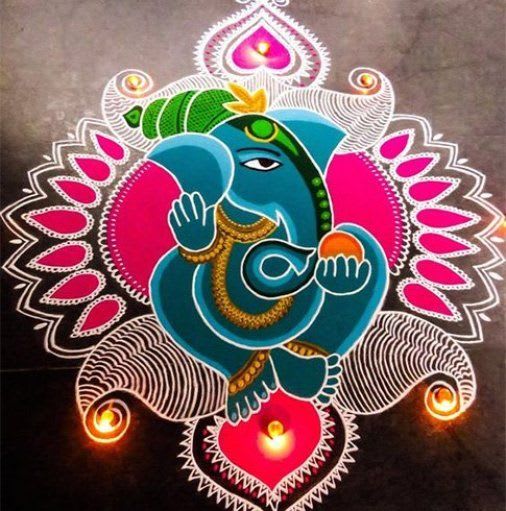 Source : thechamptree.in
7.DECORATING YOUR POOJA ROOM FOR DIWALI
Decorate your Puja room tastefully this Diwali. Try a beautiful combination of idols with diyas and silverware. Add some fresh flowers, use rich silks as backdrop & light up incense sticks to transform your pooja space into a sensory delight.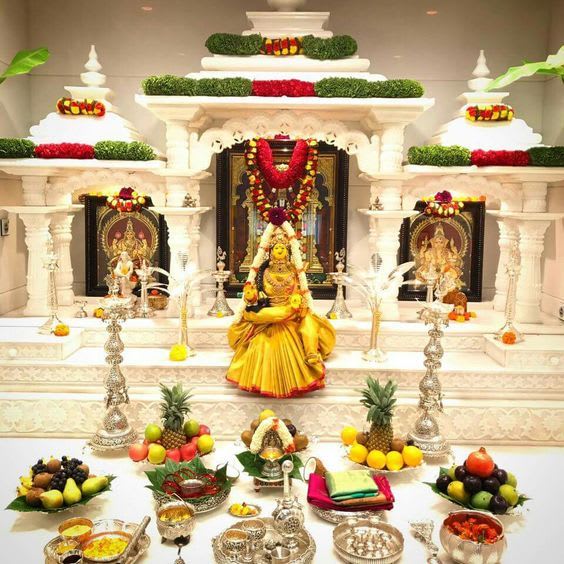 Source : rajiyinkanavugal.blogspot.com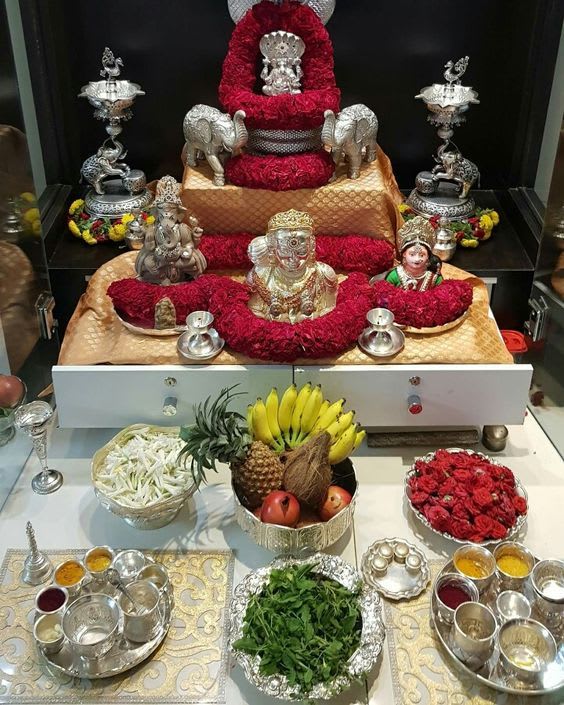 Source : eligaluniversso.blogspot.com
8.USING EVERYDAY FLOWERS IN A UNIQUE WAY
Everyday flowers like Jasmines or Roses can add an instant freshness to your Diwali decor. Mix in a cocktail of lights and ornaments for some quick magic. Or use a mix of flowers to create that easy and visually beautiful rangoli! This is a beautiful idea for transforming your space into a festive galore in no time!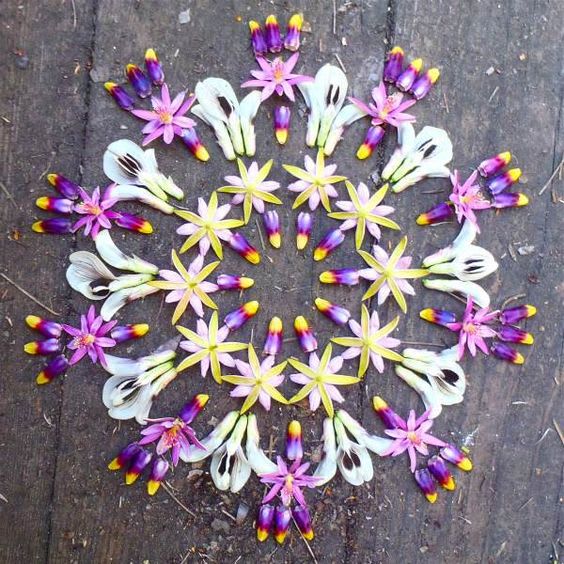 Source : greenme.it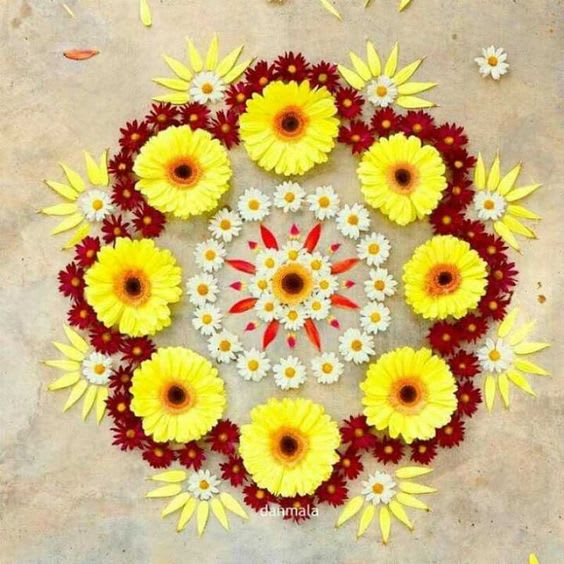 Source : hikendip.com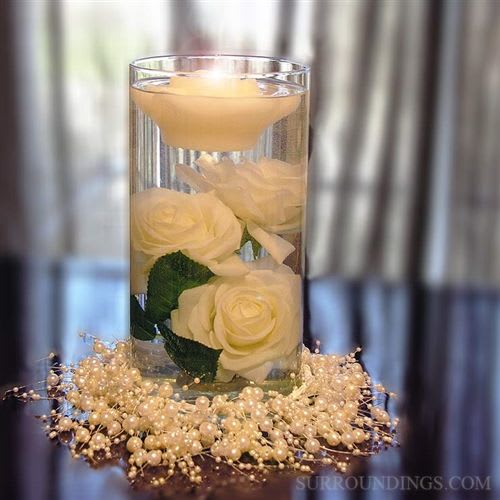 Source : surroundings.com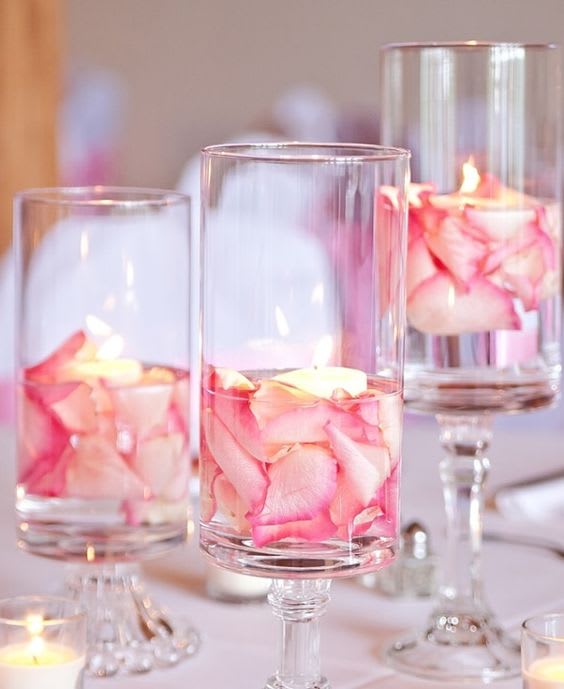 Source : coupons.com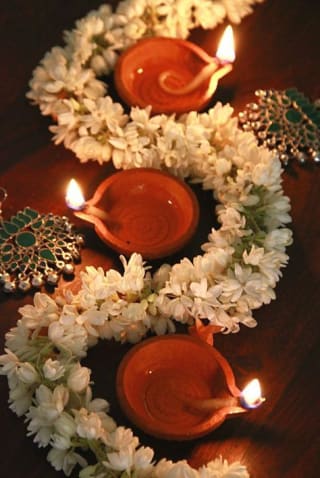 Source : sunnyyellowindow.blogspot.com
9.STRING THOSE FAIRY LIGHTS
Diwali is the festival of lights! So the most obvious way to decorate is with lots of twinkling lights. All you have to do as part of your Diwali light decoration is to get strings of fairy lights and find various ways to use them. Drape string lights around your doors and windows or hang them between curtains, Or you could just Bunch them in clear glass bottles and vases. Just wind them up around a hula hoop to create a beautiful chandelier! Hang this in your foyer, above your dining table or in a decorative corner for that lighted diwali!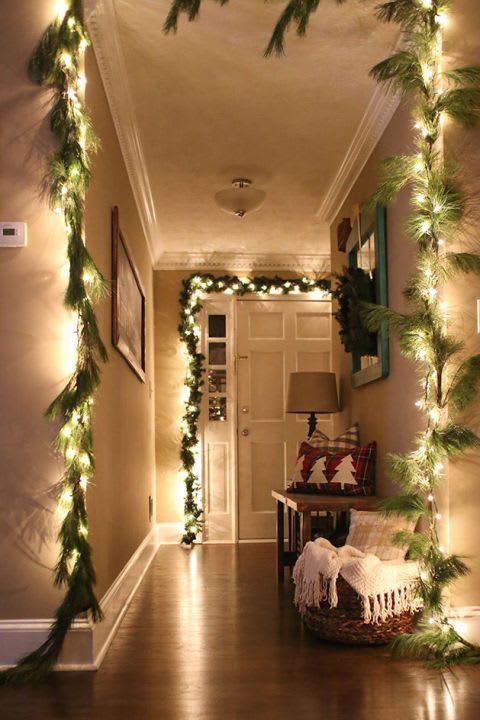 Source : countryliving.com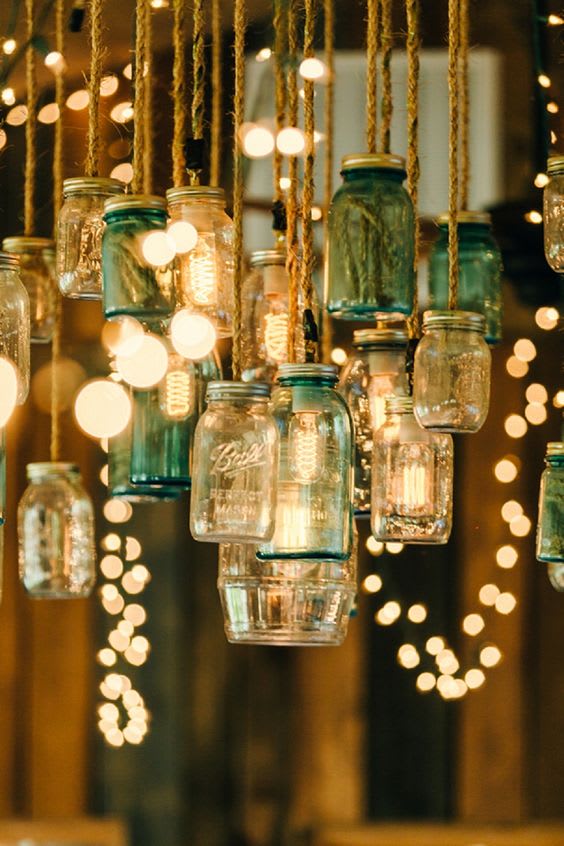 Source : somethingturquoise.com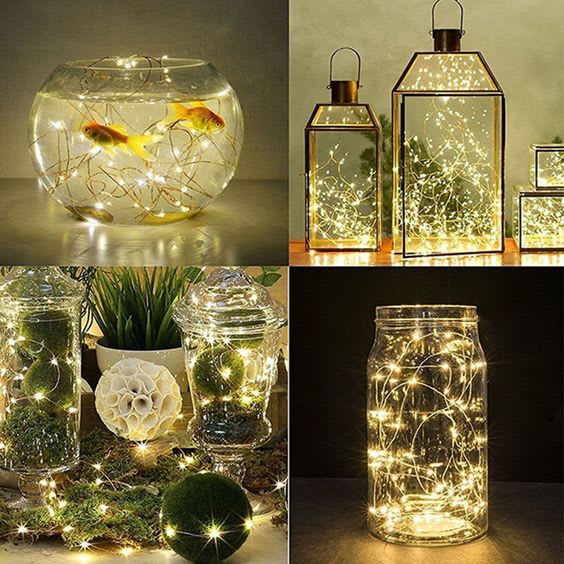 Source : rover.ebay.com
Source : goodhousekeeping.com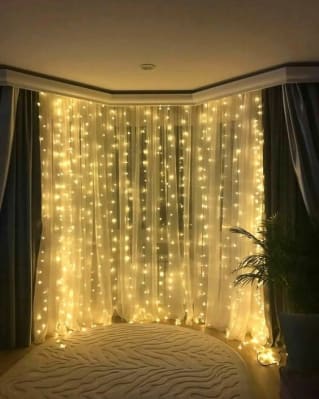 Source : popsugar.com
10.DECORATING WITH PAPER LANTERNS
'Kandils' or paper lanterns are another essential at Diwali and Diwali decorations are incomplete without including them.These colourful kandils bring that burst of colours in our homes and are an absolute must haves.
You can use coordinated colours to go with your scheme or use different colours to brighten the space up…
Don't shy up and use just one! You can buy a bunch of them in different colours and sizes too, hang them in a row or at different heights for a bright, colourful and festive effect.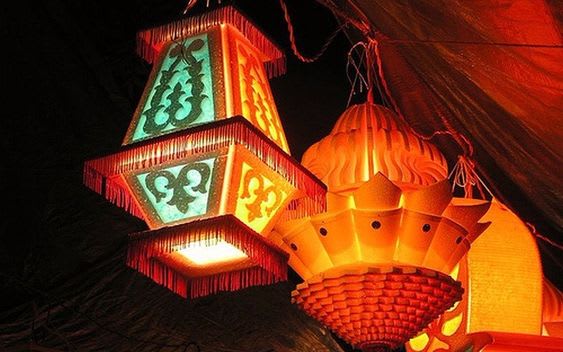 Source : ebuild.in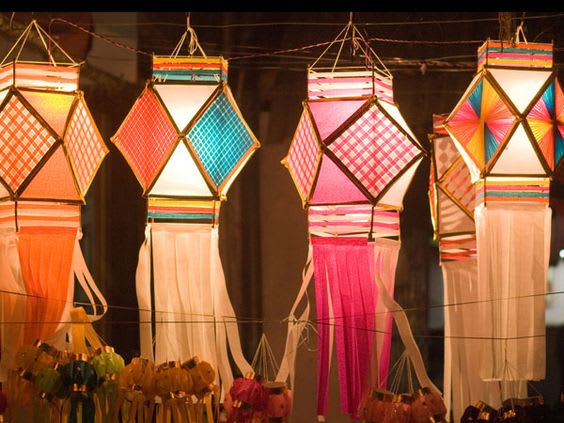 Source : idiva.com
There are so many ways to beautify your home and make this Diwali a dazzling one .. Hope you enjoy these ideas and make your home festive ready ! Wishing you all a very Safe and HAPPY DIWALI!